Career Highlights
Born June 21, 1951
Turned professional at 17. Began early recordings with various bands including Crystal Mesh, The Shot, Paul Dowell & The Dolphin.
Joined NEIL YOUNG's band at age 18, played piano, guitar and sang on the acclaimed platinum album "After The Gold Rush".
Continued recording career with the band "GRIN" in 1971 with the release of the self-titled "GRIN" album on Spindizzy/Columbia.
Followed in 1972 with the second release by Grin entitled "1+1", which included the top 40 hit "WHITE LIES".
1971 - 1974 - Recorded four albums with GRIN.
1972- joined CRAZY HORSE to record classic first album, the only one with Danny Whitten.
1973 - Played on NEIL YOUNG's "TONIGHT'S THE NIGHT" album released in 1973. Toured extensively throughout the world with Neil to promote the album.
1975 - Began recording as a solo artist for A&M Records with the release of "NILS LOFGREN". This album featured the songs "Back It Up" and "Keith Don't Go".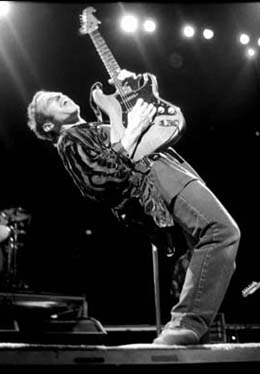 photo courtesy Danny Clinch
1976 - Released "CRY TOUGH" on A&M Records.
1977 - Released "I CAME TO DANCE". Toured worldwide throughout 1976 and 1977.
1978 - Released the Double Live Album "NIGHT AFTER NIGHT".
1979 - Released "NILS" solo album, which contained the European top 40 hit "Shine Silently".
1981 - Released "NIGHT FADES AWAY" on MCA Records. Subsequent world tour followed.
1983 - Played on NEIL YOUNG's "TRANS" album released in 1983. Did the world tour with Neil for "TRANS" and appeared on the video movie made of the tour, titled "BERLIN".
Released "WONDERLAND" on MCA Records.
1984 - Joined BRUCE SPRINGSTEEN'S E STREET BAND as guitarist in May. Played over 150 shows worldwide on the BORN IN THE USA Tour.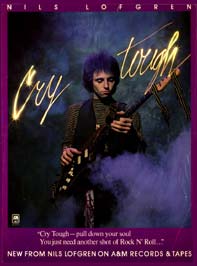 1985 - Released the solo album "FLIP" on Columbia Records, which contained the Top 40 European hit "SECRETS IN THE STREET". Video for the single was aired on MTV and VH-1.
1988 - "TUNNEL OF LOVE" album released. Played on the "TUNNEL OF LOVE" and "AMNESTY INTERNATIONAL" world tours with BRUCE SPRINGSTEEN. Recorded the "BRUCE SPRINGSTEEN LIVE" album and appeared in numerous Springsteen videos. Currently guitarist in the "E STREET BAND".
1989 - Joined "RINGO STARR'S ALL STARR BAND" for the World Tour and resulting live album and video.
1991 - Released the album "SILVER LINING" on Rykodisc during 1991. Included the Top 40 AOR Track "VALENTINE".
Appeared on THE TONITE SHOW, DAVID LETTERMAN, and MTV Played over 100 shows in 12 countries during 1991.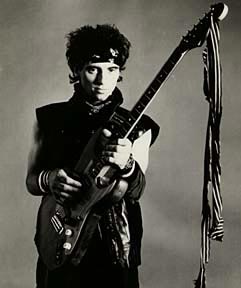 1992 - Released "CROOKED LINE" album on Rykodisc. Contained the song "BLUE SKIES", associated video was produced and aired on VH-1.
Joined RINGO STARR and THE ALL STARR BAND for 1992 Second World Tour. Live album released during fall of 1993.
1993 - Played with NEIL YOUNG on the MTV UNPLUGGED SPECIAL, February 1993, which was shown throughout the world, and subsequently released as a live CD in the summer. CD achieved platinum status.
Recorded soundtrack for the movie "EVERYBREATH."
Played on the PBS Special THE BEATLES SONGBOOK which also featured Dr. John, Los Lobos and Cathy Mattea. Recorded in January 1993.
Recorded with BRANFORD MARSALIS in July for Branford's 1994 release entitled "BUCKSHOT LeFONQUE" on Columbia Records.
1994 - Released soundtrack CD for the movie "EVERYBREATH" in February on Stampede Records. Movie released in June 1994 on Columbia/Tristar.
Musical Director for ABC's PAULA POUNDSTONE SHOW in early 1990's. Played with CAB CALLOWAY.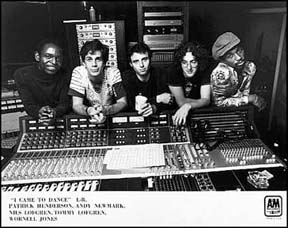 1991-1996 - Musical Director for the CABLE ACE AWARDS
1995 - Released "DAMAGED GOODS" on Pure Records
1997 - Released "ACOUSTIC LIVE" on Capitol Records, Right Stuff Label. .
1997-1999 - Continued extensive acoustic and electric tours. Merry Arizona United Cerebral Palsy Charity CD - contributed a Christmas tune each year.
1999-2000 - World Tour with BRUCE SPRINGSTEEN AND THE E STREET BAND, appeared on HBO Special recorded during the tour. Double CD, Video and DVD released 2001.
2001 - (April) Song "BLACK BOOKS" from ACOUSTIC LIVE album appears in HBO hit show THE SOPRANOS.
"BREAK AWAY ANGEL" released on Vision Music in 2001. An extension of "Acoustic Live", this CD was recorded mostly live in the studio and features improvisational acoustic leads over unusual harp as thematic rhythm instrument. Also features Lee Sklar and Wade Matthews on bass and Timm Biery and Mike Botts on drums.
2002 - record "THE RISING " with BRUCE SPRINGSTEEN and the E STREET BAND, followed by a long World Tour. Nils becomes more versatile swing man, playing pedal steel, dobro, bottleneck, lap steel and 6-string banjo on stage. Tour ends in October of 2003. Appearance on Saturday Night Live with the E Street Band
2004 - Records "23rd STREET LULLABY" with PATTI SCIALFA. Does promo tour and 3 week U.S. Tour with Patti's band.
2005 - appeared as guitarist with WILLIE NELSON at KENNEDY CENTER HONORS in December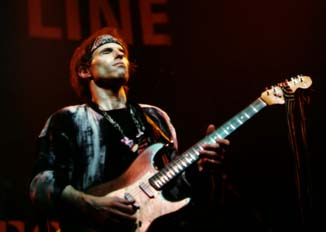 2006 - latest solo release "SACRED WEAPON" featuring Kevin McCormick on bass and Timm Biery on drums. Also, duets and vocal performances by Willie Nelson, Graham Nash, David Crosby, Martin Sexton. Margo Reed, Mary Ann Redmond, Tom Lepson, Bob Berberich and the Lofgren Brothers.
DVD Release "NILS LOFGREN & FRIENDS LIVE ACOUSTIC" recorded at the Birchmere in Alexandria, VA with special guest appearances by the Lofgren Bros., Mary Ann Redmond, Bob Berberich, Jeff "Skunk" Baxter, Paul Bell & Buck Brown.
Session player on JERRY LEE LEWIS release "Last Man Standing", pedal steel on "Sweet 16", released as CD and DVD.
2007 - collaborated with well-known author Clive Cussler on the tune "Whatever Happened to Muscatel" which is available through the website.
Recorded with Patti Scialfa on her release "PLAY IT AS IT LAYS".
Toured with Bruce Springsteen and the E Street Band in support of the release "MAGIC".
2008 - solo release "THE LONER-NILS SINGS NEIL" featuring Nils singing acoustic versions of some of Neil Young's songs.
Toured and worked on recordings with Bruce Springsteen and the E Street Band
2009 - release of Bruce Springsteen and the E Street Band's "WORKING ON A DREAM" and world tour in support throughout the year.
2011 - New studio solo release of "OLD SCHOOL" - 12 tunes including guest appearances by Paul Rodgers, Lou Gramm and Sam Moore
2012 - World Tour with Bruce Springsteen and the E Street Band in support of release "WRECKING BALL"
2014 - 10-Disc Box Set Release "FACE THE MUSIC" on Fantasy/Concord. Beautifully produced in-depth retrospective of Nils' music, includes a DVD, booklet & extras.
2015 - Live recording of UK Face the Music Tour from January 2015 "UK 2015 FACE THE MUSIC TOUR" Audio CD (Cattle Track Road Records), Outstanding Contribution Award at the Classic Rock Roll of Honor Awards in London, appearance on Saturday Night Live with Bruce Springsteen and the E Street Band
2016/2017 - "THE RIVER TOUR" US & World Concert Tour with Bruce Springsteen and the E Street Band
2017 - Induction to the Arizona Music and Entertainment Hall of Fame, new Blind Date Jam video release online
2018 - "50 Years Up The Road" Nils Lofgren acoustic tours of US and UK, story on Nils featured on PBS News Hour
2019 - "BLUE WITH LOU" first Nils Lofgren studio release in 8 years, CD and vinyl; "PRETTY SOON" music video from Blue With Lou album; Nils Lofgren Band first full-band tour in 15 years with Tom Lofgren, Kevin McCormick, Andy Newmark, Cindy Mizelle; Crazy Horse recording for Neil Young "COLORADO" release
2020 - Nils Lofgren "WEATHERED" Live Double album release from 2019 full band shows; December appearance on Saturday Night Live with Bruce Springsteen & The E Street Band, inclusion of Nils Lofgren/Lou Reed songs in Lou Reed "I'll Be Your Mirror The Collected Lyrics" book published by Hachette Books, Release of Bruce Springsteen "LETTER TO YOU" album and film
2021 - "BONUS TRACKS" digital release of demos from the out-of-print Face The Music Box Set